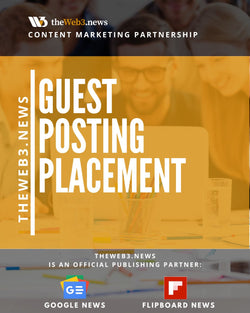 Sponsored Guest Posting on theWeb3.news (includes Google News)
Looking to enhance the visibility of your business or article to the global Web3 community? If you're targeting enthusiasts of Crypto, NFTs, DeFi, and other Web3 startup projects, then theWeb3.news is your ideal platform. Known as one of the fastest-growing online publications in the Web3 space, we can help broadcast your message.
Our Package Includes:
A permanent spot for your article on the theWeb3.news website
A 'do-follow' backlink
Permission for a call to action
The option to remove the "Sponsored" tag
Complementary premium stock images that complement your article content
Syndication to Google News
Benefits:
Enhance your brand recognition among active Web3 members and investors
Boost your SEO values through backlinks from our main website, theWeb3.news
Generate leads and attract traffic from your sponsored articles, round the clock
Evade the negative perception associated with banner ads, by providing value to the audience instead
Instructions: After your purchase, our editorial team will be in touch to collect and review your material. In the rare event that we cannot accept your material due to editorial reasons, we assure a full refund.